Title:
Changeling.
Author:
Philippa Gregory.
Summary:
"Italy, 1453. Seventeen-year-old Luca Vero is brilliant, gorgeous—and accused of heresy. Cast out of his religious order for using the new science to question old superstitious beliefs, Luca is recruited into a secret sect: The Order of the Dragon, commissioned by Pope Nicholas V to investigate evil and danger in its many forms, and strange occurrences across Europe, in this year—the end of days.
Isolde is a seventeen-year-old girl shut up in a nunnery so she can't inherit any of her father's estate. As the nuns walk in their sleep and see strange visions, Isolde is accused of witchcraft—and Luca is sent to investigate her, but finds himself plotting her escape.
Despite their vows, despite themselves, love grows between Luca and Isolde as they travel across Europe with their faithful companions, Freize and Ishraq. The four young people encounter werewolves, alchemists, witches, and death-dancers as they head toward a real-life historical figure who holds the boundaries of Christendom and the secrets of the Order of the Dragon."
My Thoughts So Far:
Only fifty pages into this one, I'm liking Changeling so far. I haven't really been able to connect to the characters just yet, but then again I'm just a few chapters in. Quite a lot has already happened. Isolde's father has passed away, her brother tried to get force Isolde to marry a prince, that prince tried to rape her, and now her brother is sending her to become a nun.
On the other hand we are also introduced to a male character named Luca, who was kicked out of his religious order, but then discovered by a man asking him become an investigator of evil and darkness. I'm right at the part where Luca arrives at the nunnery to investigate possible witchcraft going on.
I'm pretty excited to see how this book as well as the rest of the series goes, because I've heard great things about Philippa Gregory's writing!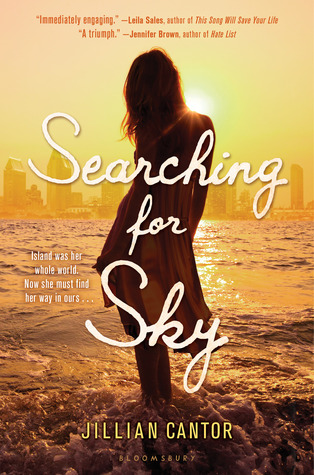 Title:
Searching for Sky.
Author:
Jillian Cantor.
Summary:
"Sky and River have always lived on Island, the only world they've ever known. Until the day River spots a boat. Across Ocean, in a place called California, Sky is separated from River and forced to live with a grandmother she's just met. Here the rules for survival are different. People rely on strange things like cars and cell phones. They keep secrets from one another. And without River, nothing makes sense. Sky yearns for her old life where she was strong and capable, not lost and confused. She must find River so they can return to Island, but the truth behind how they ended up there in the first place will come as the biggest shock of all."
My Thoughts So Far:
Since I'm reading two books right now, along with a book for school, I haven't been able to get too far into this one either. As of right now I've been introduced to both of the main characters Sky and River. Both Sky and River are teenagers, stranded on this island. They have been there since they were so young, that they can't even remember life before. Now that Sky's mother and River's father have passed away, the two teenagers are on their own. That is until a boat arrives on the island, looking for to save them.
Again, another topic that I've read nothing about. I'm excited to see how Sky and River adapt to society and what some of the struggles are that they have to over come!