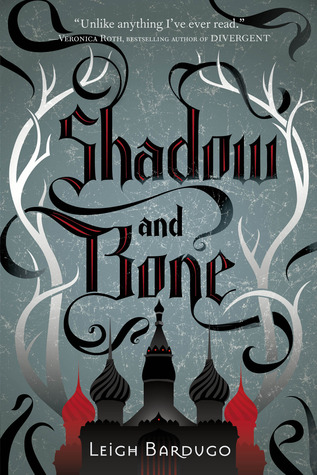 Title:
Shadow and Bone.
Author:
Leigh Bardugo.
Series:
Yes, #1.
Pages:
358.
Source:
Purchased.
Publisher:
Henry Holt and Co.
Published Date:
6/5/12.
Links:
Book Depository.
Goodreads.
Summary:
"The Shadow Fold, a swathe of impenetrable darkness, crawling with monsters that feast on human flesh, is slowly destroying the once-great nation of Ravka.
Alina, a pale, lonely orphan, discovers a unique power that thrusts her into the lavish world of the kingdom's magical elite—the Grisha. Could she be the key to unravelling the dark fabric of the Shadow Fold and setting Ravka free?
The Darkling, a creature of seductive charm and terrifying power, leader of the Grisha. If Alina is to fulfill her destiny, she must discover how to unlock her gift and face up to her dangerous attraction to him.
But what of Mal, Alina's childhood best friend? As Alina contemplates her dazzling new future, why can't she ever quite forget him?"
My Thoughts:
Shadow and Bone has been floating around the blogosphere for almost two years now, and has been pretty popular since. It resurfaced when the second book was released and is coming back up again now that the third book, Ruin and Rising is coming out in less than a month! Now that the third and final book in the Grisha trilogy is just coming around the corner, I knew it was about time that I get started on these books!
Shadow and Bone, follows the journey of two young orphans Alina and Mal. When younger, the two became very close friends in the orphanage, but now years later they have enlisted in the army and are going on their newest mission which requires them to travel through the Shadow Fold.
The Shadow Fold is river running through a mountain range, and has a history of murder, and death. Not many troops have made it through, and those who have, had lost more than half of their ships and men. Alina and Mal's troop is slowly making their way through the Fold, but it doesn't take long for the blood bath to begin.
When Alina is attacked by this massive monster she isn't sure what to do. She tries to protect her fellow soldier, as well as herself, but all she can recall before passing out, is this HUGE flash of light. When she finally comes back to her consciousness, Alina is quickly informed of what happened and is ripped away from her troop and Mal. She can barely make eye contact with him, from across the room, when she is dragged away.
Alina isn't sure what's going on and why she is being held prisoner...or if she even is. Instead of traveling with the solider's she is escorted by the Darkling and his guards. The Darkling informs her that she has a very poweful super ability and that that's what saved her in the Fold. He goes on to explain that he is trying to correct his great great grandfather's mistake of building the Fold, and that Alina will play a huge role in doing so.
While she hasn't seen or heard from Mal in quite a few days, Alina's life has completely changed. She is going to dances, wearing beautiful gowns and makeup, and is spending a lot of time with the Darkling. More time than anyone else has.
Things seem to be going good. Alina is in training to strengthen and learn to control her power, has made a new friend and is ready to put an end to the fold. But she also really misses Mal and is worried about him. But somethings just don't seem right, and Alina quickly learns that things aren't what she thought.
She knows what she has to do, but the only way Alina can get this done is with the help of Mal...
Final Verdict:
With books like Shadow and Bone, I'm not looking for romance, I'm not looking for the right guy to say the right thing. I'm looking for action, for magic and for something that excites me. Shadow and Bone gave me exactly what I wanted. While there was some like romance, it wasn't overpowering, and it didn't cast a shadow over everything else.
Alina was a strong leading female character that I like in these types of books, because who would want a damsel in distress, that always needs saving...no one. She did get a bit swayed by the Darkling's looks and charm, but quickly made everything right. I liked her! We didn't get to hear much about Mal, but what I did learn and witness from him towards the end of the book I LOVED.
Overall Shadow and Bone was an interesting and good read! The ending was made of true friendship, bravery and a little bit of love. There were even some big twists and turns that I didn't see coming from two of the characters! *I'm not saying who!! Even though I am REALLY tempted to!*
The only thing I struggled with, was imaging what the Fold looked like. There wasn't much information on how the Fold was created (besides who it was created by) or what it ACTUALLY was. The only way I knew that it was a river running through a mountain range is from looking at the map in the front flap of the book.
I've already purchased the second book, and WILL be putting it into my TBR pile for next month! I'm dying to see how Alina and Mal's journey continues!
Favorite Quotes:
"'You're shaking,' he said. 'I'm not used to people trying to kill me.' 'Really? I hardly notice anymore.'"
"'I need you to do something for me.' He snorted. 'You mean other than deserting the army, scaling mountains, and freezing my ass off on the cold ground ever night?'"