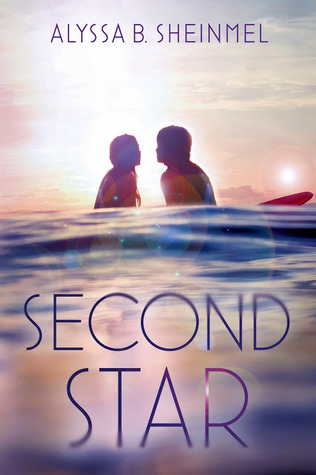 Title:
Second Star.
Author:
Alyssa B. Sheinmel.
Series:
No.
Pages:
248.
Source:
Netgalley, for Review.
Publisher:
Farrar, Straus and Giroux.
Published Date:
5/13/14.
Links:
Book Depository.
Goodreads.
Summary:
"A twisty story about love, loss, and lies, this contemporary oceanside adventure is tinged with a touch of dark magic as it follows seventeen-year-old Wendy Darling on a search for her missing surfer brothers. Wendy's journey leads her to a mysterious hidden cove inhabited by a tribe of young renegade surfers, most of them runaways like her brothers. Wendy is instantly drawn to the cove's charismatic leader, Pete, but her search also points her toward Pete's nemesis, the drug-dealing Jas. Enigmatic, dangerous, and handsome, Jas pulls Wendy in even as she's falling hard for Pete. A radical reinvention of a classic, Second Star is an irresistible summer romance about two young men who have yet to grow up--and the troubled beauty trapped between them."
My Thoughts:
Second Star is a Peter Pan retelling, but not any average one, instead it involves lots waves, and LOTS surfer boys. Before I started reading Second Star, I was a little nervous but also curious to see how Alyssa Sheinmel would pull this kind of retelling off. I mean who would be Tinkerbell, how does the faerie dust come in, and surfing, how does that tie in?
I just had tons of questions, that desperately needed some answers, so I finally picked up the book and started to read.
The main character in Second Star is a recent high school graduated named Wendy Darling, who is headed to college in the fall. The first time she bumps into Pete, is during a bonfire on the beach to celebrate their graduation. She can't believe someone would be surfing out in the dark, and can't stop herself from taking a closer look to see who it is...if it might be one of her brothers...
Wendy's two younger, twin brothers have gone missing seven or eight months ago. While her parents are moping around and convinced that they will never see their children again, Wendy is believes that they are somewhere out there catching the next wave to surf.
She's determined to find them, even when her parents aren't and her best friend tries to convince her that they are dead, and won't be coming back. Wendy pushes all those thoughts aside and heads out on her own to find them.
On first ride down the shore, she quickly runs into Pete again. She does get a bit side tracked and spends a few hours with him in a small cave right on the beach. Wendy is so tempted to ask him, if he might know or have see her two brothers, but she doesn't want to ruin this moment with him.That day she learns that Pete is a runaway, and that he lives with a group of teenagers in an abandoned house.
When Wendy finally decides to pack her things and go on a search, she begs her best friend to cover for her. When she finally agrees, Wendy isn't really sure where to start, but the best place would be with Pete and the other surfer runaways, maybe someone there know her brothers or has at least seen them.
With all odds going against her, and even a betrayal by two people that were the closest to her, Wendy isn't willing to believe what everyone is telling her. She knows that John and Micheal are somewhere out in the ocean, and therapists, hospitals, her parents, and her best friend aren't going to keep her from thinking that.
Final Verdict:
Second Star was such an emotional roller coaster, that I was strapped in for the ride! There were so many feels in this book, from Wendy's missing her two brothers, the rivalry between her and Belle, the betrayal Wendy felt from two characters in the story, and some romance as well!
Before I start talking about anything else, let's discuss the "retelling". The retelling is what suckered me into reading Second Star, out of my love for Peter Pan and for curiosity of how Alyssa Sheinmel would pull it off. But I don't think the retelling went along with this story. Besides naming the characters after Peter Pan characters, flying is now surfing and faerie dust is a drug, there really isn't too much else. I don't think Second Star needed to considered a "retelling" I feel if the characters names were different, this would still have been an amazing read.
There were a lot of good characters in this book, Wendy, Pete, Jas, Belle, Wendy's best friend, and some of the guys. Wendy wasn't willing to just give up on her brothers, she still had hope, which I liked and found courageous. Pete was a caring leader, who knew exactly what he had to do to keep his group safe. Belle was the perfect mean girl, and even opened up a bit towards the end. Jas was the faerie dust dealer, who seems to be this bad (ish) boy, but he also opens up and is so much more than that.
Overall I enjoyed Second Star! The ending left me heart broken, but sometimes sad endings are good too! I don't think this one needed to be a retelling, because I feel that the story itself is really good. If you are looking for something sad, but meaningful to read this summer, Second Star is the book for you!