Welcome to Turning Pages!
And Happy Happy Monday! I'm swamped with reading this week, I with Moonglass by Jessi Kirby. But after going on a requesting spree, on my local library's website, I'm attempting to read Partials by Dan Wells (and hopefully Fragments as well) before they need to be returned to the library. AND THEN, I'm almost done with What The Spell, by Brittany Geragotelis!! AHH!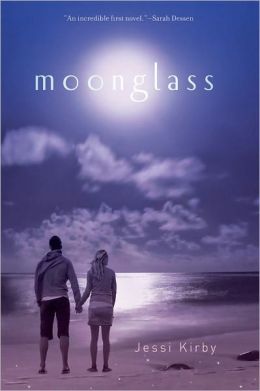 Title:
Moonglass.
Author:
Jessi Kirby.
Summary:
"When Anna was little, she and her mother used to search for sea glass, but since they looked at night, they called it moonglass. Now, ten years after her mother's mysterious death, her father is working as head lifeguard on the same beach where her mother grew up and her parents first met and fell in love. Reluctant to get close to anyone (including her father) and not pleased about having to start at a new school, Anna begins to spend more time alone, running the length of the beach and wondering about who her mother really was. After meeting a lifeguard named Tyler, she slowly lets her guard down and together they start exploring the abandoned houses that dot the beach. But when learning more about her mother's past leads to a painful discovery, Anna must reconcile her desire for solitude with ultimately accepting the love of her family and friends."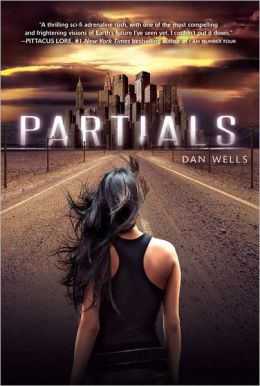 Title:
Partials.
Author:
Dan Wells.
Summary:
"The human race is all but extinct after a war with Partials—engineered organic beings identical to humans—has decimated the population. Reduced to only tens of thousands by RM, a weaponized virus to which only a fraction of humanity is immune, the survivors in North America have huddled together on Long Island while the Partials have mysteriously retreated. The threat of the Partials is still imminent, but, worse, no baby has been born immune to RM in more than a decade. Our time is running out. Kira, a sixteen-year-old medic-in-training, is on the front lines of this battle, seeing RM ravage the community while mandatory pregnancy laws have pushed what's left of humanity to the brink of civil war, and she's not content to stand by and watch. But as she makes a desperate decision to save the last of her race, she will find that the survival of humans and Partials alike rests in her attempts to uncover the connections between them—connections that humanity has forgotten, or perhaps never even knew were there."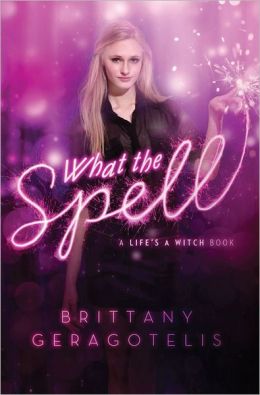 Title:
What The Spell.
Author:
Brittany Geragotelis.
Summary:
"A teenage witch juggles popularity and romance while keeping her powers a secret in this spellbinding debut. Almost-sixteen-year-old Brooklyn feels invisible, but she desperately wants to be pretty, to be popular, to be adored by a cute guy. Luckily for her, she's a witch about to come of age—so she's only a few spells away from making it all happen. On her milestone birthday, Brooklyn's conservative parents finally unbind her powers, which include the ability to magically match couples with a love spell. Brooklyn uses her special skills to get a makeover, new friends, and the attention of her crush, Asher. But the popular clique Brooklyn wants to infiltrate puts her in the same precarious position as her Salem ancestors: If she's found out, she could be vilified—and lose Asher in the process. Can she make the most of her magic, or will she be luckless and loveless? Be careful what you witch for!"
Thanks for stopping by! Let me know what you're reading and if you read more than one book at a time!