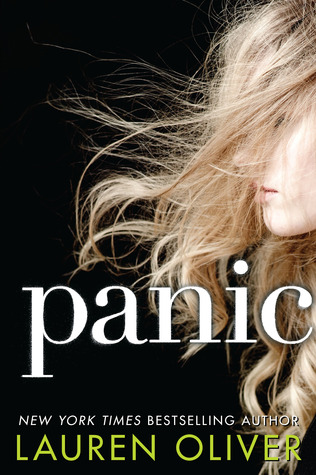 Title:
Panic.
Author:
Lauren Oliver.
Series:
Yes, Panic #1.
Source:
Purchased.
Publisher:
HarperCollins.
Published Date:
3/4/14.
Links:
Book Depository
Goodreads
"Panic began as so many things do in Carp, a dead-end town of 12,000 people in the middle of nowhere: because it was summer, and there was nothing else to do.
Heather never thought she would compete in Panic, a legendary game played by graduating seniors, where the stakes are high and the payoff is even higher. She'd never thought of herself as fearless, the kind of person who would fight to stand out. But when she finds something, and someone, to fight for, she will discover that she is braver than she ever thought.
Dodge has never been afraid of Panic. His secret will fuel him, and get him all the way through the game, he's sure of it. But what he doesn't know is that he's not the only one with a secret. Everyone has something to play for.
For Heather and Dodge, the game will bring new alliances, unexpected revelations, and the possibility of first love for each of them—and the knowledge that sometimes the very things we fear are those we need the most."
My Review:
Panic was a very exciting book for me! When I first picked it up, I was on my way to meet Lauren Oliver, and dying to finally meet her! She was absolutely hilarious, and brilliantly sarcastic.
After coming home from the meet up, I did a little bit of background research and was sad to see how many mixed reviews Panic had. The concept sounded strange and interesting; I couldn't wait to get started. There was no way I was going to let those reviews keep me from reading this book or ruin the story for me.
Panic takes place over the three months of summer break between senior year of high school and freshman year of college. It revolves around four main characters Heather, Dodge, Natalie and Bishop. Panic is basically a game any senior, who pays the daily fee, can play and attempt to win the jack pot of money. Who doesn't want money? Sounds easy right?
WRONG!
Panic is exactly how it sounds. It takes the biggest fears people has and uses it against them. It tests people, it changes people. Some are in it for the money, and others are in it for revenge.
Besides the players who take part, and the guy who invented the game, there are judges. There are two every where, but no one knows who they are. They are the ones who decide what games are played, who continues, and finally who wins. But the judges can be anyone, your best friend, or even your worst enemy. You'll never know.
Overall, Panic was enjoyable. Would I ever take part in the games? HECK NO! I just graduated high school, twelve years of horrible schooling, to die that summer? No. No way.
My biggest fear going into Panic were the characters. I've read numerous reviews claiming that the characters are dumb and crazy for taking part in the game. I hate dumb characters, or characters who say or do something without thinking before hand. Of course I wouldn't want to play in these games, but that's because I don't have anything to play for. Heather has her younger sister and a better life to play for. Dodge has his older sister.
They have legitimate reasons to play and to win the pot of money. They aren't just playing to die or almost die.
I do have to say that there wasn't anything too shocking, or mind twisting going on in this story. There was one or two instances where I was like, what the heck? How the heck? But what kept me reading were the dangerous activities and games the players had to take part in. I was excited to see what the judges would come up with next. What weird or disgusting things the players had to endure to continue in the game. It almost reminded me of X Factor, if you remember that show.
Panic was a crazy dangerous read. I would recommend it to anyone who isn't looking for romance, who isn't looking for anything scary. But I would recommend this to anyone who is looking for something a bit more risky and something that will make you cringe. Loved it. Love Lauren Oliver!