Welcome to Turning Pages!
While writing up my "What's Coming This Week" on Saturday, I noticed that Jennifer Rush's Altered received a little makeover and is being sold with a cover. The new cover is only slightly different than the one I borrowed from the library in the summer, back when I was dying to read Altered!
New!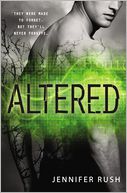 I'm leaning towards the old cover instead of the new one. I like that the title isn't cover the man candy and the lines running up and down his back. I also like that it's not so bulky in the middle of the entire cover and completely taking the attention away from other elements of the cover. Which one do you like? Why?