Welcome to Turning Pages!
Christmas has come and gone, and I did get a few good books that I'm excited to show you. While I gave my brother hints of what I wanted for Christmas, my dad did a good job picking out a book by himself! I'm so grateful for all the amazing gifts I got, and I can't wait to finally use them all.
(from my brother)
Enclave, by Ann Aguirre.
"New York City has been decimated by war and plague, and most of civilization has migrated to underground enclaves, where life expectancy is no more than the early 20's. When Deuce turns 15, she takes on her role as a Huntress, and is paired with Fade, a teenage Hunter who lived Topside as a young boy. When she and Fade discover that the neighboring enclave has been decimated by the tunnel monsters--or Freaks--who seem to be growing more organized, the elders refuse to listen to warnings. And when Deuce and Fade are exiled from the enclave, the girl born in darkness must survive in daylight--guided by Fade's long-ago memories--in the ruins of a city whose population has dwindled to a few dangerous gangs."
Outpost, by Ann Aguirre.
"Deuce's whole world has changed.
Down below, she was considered an adult. Now, topside in a town called Salvation, she's a brat in need of training in the eyes of the townsfolk. She doesn't fit in with the other girls: Deuce only knows how to fight.
To make matters worse, her Hunter partner, Fade, keeps Deuce at a distance. Her feelings for Fade haven't changed, but he seems not to want her around anymore. Confused and lonely, she starts looking for a way out.
Deuce signs up to serve in the summer patrols—those who make sure the planters can work the fields without danger. It should be routine, but things have been changing on the surface, just as they did below ground. The Freaks have grown smarter. They're watching. Waiting. Planning. The monsters don't intend to let Salvation survive, and it may take a girl like Deuce to turn back the tide."
(from my dad)
Wintergirls, by Laurie Halse Anderson.
"Lia and Cassie are best friends, wintergirls frozen in matchstick bodies, competitors in a deadly contest to see who can be the skinniest. But what comes after size zero and size double-zero? When Cassie succumbs to the demons within, Lia feels she is being haunted by her friend's restless spirit.
In her most emotionally wrenching, lyrically written book since the multiple-award-winning Speak, Laurie Halse Anderson explores Lia's descent into the powerful vortex of anorexia, and her painful path toward recovery."
(for review)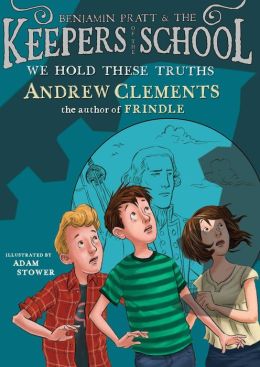 We Hold These Truths, by Andrew Clements.
"The Keepers of the School—known to their friends as Ben, Jill, and Robert—have one last chance to save their school before it's torn down to make room for a seaside amusement park. But their nemeses, Janitors Lyman and Wally, are just as determined to keep the kids out of the way and the demolition on schedule.
One way or the other, this battle is about to come to a head. When all is said and done, will the school still be standing? Or will everything the Keepers have fought for be destroyed?"