Welcome to Turning Pages!
I'm going to skip the whole thing, where I complain about the last month going by so fast and just get right to the point! It's the beginning of November, which means it's time to pick a new list of books I hope to read and finish throughout the month. I have a few older books I need to finally get to reading, and a few newer ones as well.
If you've read any of the titles below, feel free to leave a comment with your opinion on them!
(This time I'm listing them in the order I hope to read them!)
Some Quiet Place by Kelsey Sutton.
"I can't weep. I can't fear. I've grown talented at pretending.
Elizabeth Caldwell doesn't feel emotions . . . she sees them. Longing, Shame, and Courage materialize around her classmates. Fury and Resentment appear in her dysfunctional home. They've all given up on Elizabeth because she doesn't succumb to their touch. All, that is, save one—Fear. He's intrigued by her, as desperate to understand the accident that changed Elizabeth's life as she is herself.
Elizabeth and Fear both sense that the key to her past is hidden in the dream paintings she hides in the family barn. But a shadowy menace has begun to stalk her, and try as she might, Elizabeth can barely avoid the brutality of her life long enough to uncover the truth about herself. When it matters most, will she be able to rely on Fear to save her?"
Putting Makeup on Dead People, by Jen Violi.
"In the spring of her senior year, Donna Parisi finds new life in an unexpected place: a coffin.
Since her father's death four years ago, Donna has gone through the motions of living: her friendships are empty, she's clueless about what to do after high school graduation, and her grief keeps her isolated, cut off even from the one parent she has left. That is until she's standing in front of the dead body of a classmate at Brighton Brothers' Funeral Home. At that moment, Donna realizes what might just give her life purpose is comforting others in death. That maybe who she really wants to be is a mortician.
This discovery sets in motion a life Donna never imagined was possible. She befriends a charismatic new student, Liz, notices a boy, Charlie, and realizes that maybe he's been noticing her, too, and finds herself trying things she hadn't dreamed of trying before. By taking risks, Donna comes into her own, diving into her mortuary studies with a passion and skill she didn't know she had in her. And she finally understands that moving forward doesn't mean forgetting someone you love.
Jen Violi's heartfelt and funny debut novel is a story of transformation-how one girl learns to grieve and say goodbye, turn loss into a gift, and let herself be exceptional...at loving, applying lipstick to corpses, and finding life in the wake of death."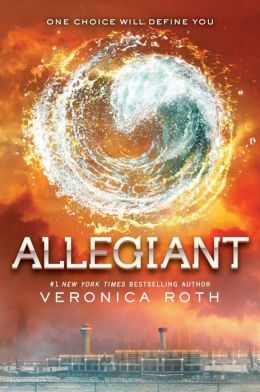 Allegiant by Veronica Roth.
"What if your whole world was a lie?
What if a single revelation—like a single choice—changed everything?
What if love and loyalty made you do things you never expected?"
Across the Universe, by Beth Revis.
"A love out of time. A spaceship built of secrets and murder.
Seventeen-year-old Amy joins her parents as frozen cargo aboard the vast spaceship Godspeed and expects to awaken on a new planet, three hundred years in the future. Never could she have known that her frozen slumber would come to an end fifty years too soon and that she would be thrust into the brave new world of a spaceship that lives by its own rules.
Amy quickly realizes that her awakening was no mere computer malfunction. Someone - one of the few thousand inhabitants of the spaceship - tried to kill her. And if Amy doesn't do something soon, her parents will be next.
Now Amy must race to unlock Godspeed's hidden secrets. But out of her list of murder suspects, there's only one who matters: Elder, the future leader of the ship and the love she could never have seen coming."
A Million Suns, by Beth Revis.
"Godspeed was once fueled by lies. Now it is ruled by chaos.
It's been three months since Amy was unplugged. The life she always knew is over. Everywhere she looks, she sees the walls of the spaceship Godspeed.
But there may be hope: Elder has assumed leadership of the ship. He's finally free to act on his vision—no more Phydus, no more lies.
But when Elder learns shocking news about the ship, he and Amy race to discover the truth behind life on Godspeed. They must work together to unlock a mystery that was set in motion hundreds of years earlier. Their success—or failure—will determine the fate of the 2,298 passengers aboard Godspeed. But with each step, the journey becomes more perilous, the ship more chaotic, and the love between them more impossible to fight.
Beth Revis catapulted readers into the far reaches of space with her New York Times bestselling debut, Across the Universe. In A Million Suns, Beth deepens the mystery with action, suspense, romance, and deep philosophical questions. And this time it all builds to one mind-bending conclusion: They have to get off this ship."
Eleanor & Park, by Rainbow Rowell.
"Set over the course of one school year in 1986, ELEANOR AND PARK is the story of two star-crossed misfits – smart enough to know that first love almost never lasts, but brave and desperate enough to try. When Eleanor meets Park, you'll remember your own first love – and just how hard it pulled you under."
Fangirl, by Rainbow Rowell.
"Cath is a Simon Snow fan.
Okay, the whole world is a Simon Snow fan . . .
But for Cath, being a fan is her life — and she's really good at it. She and her twin sister, Wren, ensconced themselves in the Simon Snow series when they were just kids; it's what got them through their mother leaving.
Reading. Rereading. Hanging out in Simon Snow forums, writing Simon Snow fan fiction, dressing up like the characters for every movie premiere.
Cath's sister has mostly grown away from fandom, but Cath can't let go. She doesn't want to.
Now that they're going to college, Wren has told Cath she doesn't want to be roommates. Cath is on her own, completely outside of her comfort zone. She's got a surly roommate with a charming, always-around boyfriend, a fiction-writing professor who thinks fan fiction is the end of the civilized world, a handsome classmate who only wants to talk about words . . . And she can't stop worrying about her dad, who's loving and fragile and has never really been alone.
For Cath, the question is: Can she do this?
Can she make it without Wren holding her hand? Is she ready to start living her own life? Writing her own stories?
And does she even want to move on if it means leaving Simon Snow behind?"
Blythewood, by Carol Goodman.
"At seventeen, Avaline Hall has already buried her mother, survived a horrific factory fire, and escaped from an insane asylum. Now she's on her way to Blythewood Academy, the elite boarding school in New York's mist-shrouded Hudson Valley that her mother attended—and was expelled from. Though she's afraid her high society classmates won't accept a factory girl in their midst, Ava is desperate to unravel her family's murky past, discover the identity of the father she's never known, and perhaps finally understand her mother's abrupt suicide. She's also on the hunt for the identity of the mysterious boy who rescued her from the fire. And she suspects the answers she seeks lie at Blythewood.
But nothing could have prepared her for the dark secret of what Blythewood is, and what its students are being trained to do. Haunted by dreams of a winged boy and pursued by visions of a sinister man who breathes smoke, Ava isn't sure if she's losing her mind or getting closer to the truth. And the more rigorously Ava digs into the past, the more dangerous her present becomes.
Vivid and atmospheric, full of mystery and magic, this romantic page-turner by bestselling author Carol Goodman tells the story of a world on the brink of change and the girl who is the catalyst for it all."