The last two weeks the only things that were in my mailbox, included boring bills, advertisements, and my report card (but shhhhh, don't tell my parents!). Not one single book.
It's true, your IMM books, don't HAVE to come in your mailbox. You can go out and buy them, borrow them, or even get them as a gift. But I didn't do anything of those three either.
School is kicking my butt right now, I'm not doing bad, but there's just so much work! What makes it ten times better, is that all of my teachers decide to assign homework or have tests on the same day (serious sarcasm!).
But you're not here to listen to me babbling about my life, your here to see what books I got. Yes! I finally got books! (Even though, not getting books, gave me loads of time to catch up on other books, that needed reading and reviewing) so let's get to it(: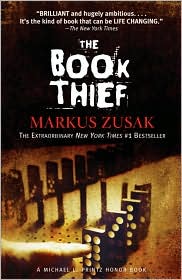 The Book Thief, by Marcus Zusak.
"It's just a small story really, about among other things: a girl, some words, an accordionist, some fanatical Germans, a Jewish fist-fighter, and quite a lot of thievery. . . .
Set during World War II in Germany, Markus Zusak's groundbreaking new novel is the story of Liesel Meminger, a foster girl living outside of Munich. Liesel scratches out a meager existence for herself by stealing when she encounters something she can't resist–books. With the help of her accordion-playing foster father, she learns to read and shares her stolen books with her neighbors during bombing raids as well as with the Jewish man hidden in her basement before he is marched to Dachau.
This is an unforgettable story about the ability of books to feed the soul."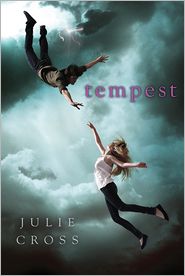 Tempest, by Julie Cross.
"The year is 2009. Nineteen-year-old Jackson Meyer is a normal guy… he's in college, has a girlfriend… and he can travel back through time. But it's not like the movies – nothing changes in the present after his jumps, there's no space-time continuum issues or broken flux capacitors – it's just harmless fun.
That is… until the day strangers burst in on Jackson and his girlfriend, Holly, and during a struggle with Jackson, Holly is fatally shot. In his panic, Jackson jumps back two years to 2007, but this is not like his previous time jumps. Now he's stuck in 2007 and can't get back to the future.
Desperate to somehow return to 2009 to save Holly but unable to return to his rightful year, Jackson settles into 2007 and learns what he can about his abilities.
But it's not long before the people who shot Holly in 2009 come looking for Jackson in the past, and these "Enemies of Time" will stop at nothing to recruit this powerful young time-traveler. Recruit… or kill him.
Piecing together the clues about his father, the Enemies of Time, and himself, Jackson must decide how far he's willing to go to save Holly… and possibly the entire world."