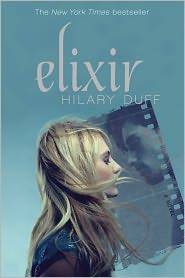 Title:
Elixir.
Author:
Hilary Duff.
Format:
Paperback.
Pages:
327.
Series:
Yes, #1.
Source:
Purchased.
Publisher:
Simon & Schuster.
Published Date:
October 12, 2010.
Summary:
"Clea Raymond is a talented photojournalist and the daughter of high-profile parents. Usually she's in total control of her camera, but after Clea's father disappears while on a humanitarian mission, eerie, shadowy images of a strange and handsome young man begin to appear in Clea's photos—a man she has never seen in her life.
When Clea suddenly encounters this man in person she is stunned—and feels an immediate and powerful connection. As they grow closer, they are drawn deep into the mystery behind her father's disappearance and discover the centuries-old truth behind their intense bond. Torn by a dangerous love triangle and haunted by a powerful secret that holds their fate, together they race against time to unravel their past in order to save their future—and their lives."
Cover:
When it comes to the cover, I really like the paperback versions Belinda and I have, better. Which is a little odd, because I usually don't like having characters on book covers. The other version, as Belinda was explaining, has a kind of dark purple background, and a overview of a iris bloom.
It's true, the iris bloom was included in the story, it wasn't just random! BUT! I felt it wasn't in the story line enough to base the whole cover off of it.
Characters-

Favorite:
Clea's best friend/sister, Rayna has to be my favorite character, even though I agree with Belinda, Ben is such a sweetheart.
Rayna, just seems like a fun girl to be around, and who would do anything for Clea, which includes getting her some alone time with the mystery man; Sage. But only if, Clea fills her in with what happened, and gives her every single detail.
We're girls! It's what we dooo!
Least Favorite:
Once again I'm totally on Belinda's side! There were so many things that Clea's mom did, or should I say didn't do, that made me want to grab her by the shoulders and give a her a good shake!
Women! Open your eyes! Take care of your daughter! Don't you have any kind of motherly instincts?
Story Line:
After getting to page 50, I was finally on the right track. I finally understood the story had nothing at all to do with Hilary Duff herself.
Almost every single YA book, I've read this past summer has had a love triangle in it (and never one with two girls, and one boy either!). Elixir starts drifting off into that direction, when Ben and Clea catch Sage in Rio, and she starts having feelings for the mystery man.
But Elixir, doesn't have the usual love triangle. Ben is actually sweet, and steps aside to let Clea have a relationship with Sage. But making sure he's always there, in case Clea gets hurt by him.