Throughout my travels as a book blogger, these last few years I've had the honor to meet as well as become acquaintances with many other book bloggers. Many of which keep a "blogging journal".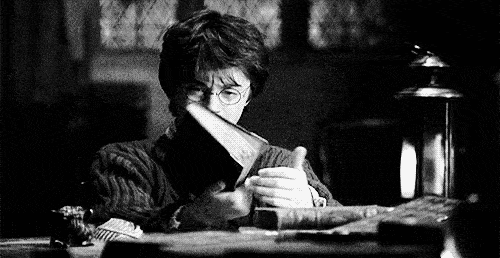 If you don't know what a "blogging journal" is, its where the blogger will schedule any posts, they plan to write, ahead of time, as well as come up with ideas for various posts and draft them, in a notebook. Sounds organized, sounds like good planning skills, and sounds GREAT!
But no, I don't keep a "blogging journal"! Why? Because of many reasons!
1.
I kind of like being messy when it comes to blogging.
I understand that there are books and posts, that need to be reviewed and up on a certain day, at a certain time. And that's what bloggers just have to do, because authors and publishers are counting on you. But when it comes to non-review books, or other types of posts, I feel like I should be allowed to be a bit unorganized.
I'm organized at home, and at school. Blogging is more about the fun, and being able to express myself in anyway I want, so I want to be a bit messy, or blog with my mood.
2.
Too repetitive.
When I hear that people are drafting and rewriting their reviews five times before they finally start typing it up and posting it, it stresses me out. No I don't post the first thing I think, but I would rather type it on the computer right away. This way I can have it ready, and fix it much more easily. I can write it, exit out, and come back to a day or two later.
What do you do instead, Lisa, to keep yourself organized and on track?
(I know you're asking yourself this right now, good thing I have an answer for you!)
1.
I keep a small notebook to write my thoughts in WHILE reading.
So no. This isn't drafting or scheduling. While I'm reading a book, and something pops out at me, that I would like to include in my review later, I jot it down in this notebook. It's more to collect my thoughts and feelings, while reading the book, and maybe a few after thoughts later.
2.
I add the review books that I need to read for the next month to the top of my TBR pile.
At the beginning of the month, as you might know, I post a TBR list. This list includes books that I have to review (which I read at the beginning of the month) and books that I want to read. This way I know what I HAVE to get done, and what I personally want to read.
3.
I keep a timer schedule on my phone.
So let's say I get a book from Netgalley for review, and it needs to be reviewed on a certain day. I will go into my phone, and post a notification a week before, reminding myself that in a week I need to post it. A week allows me enough time to go over my notes in my small notebook, and work on a review for a few days.
So while I may not be keeping a "blogging journal" like many others do, that I know. I have found other ways that keep myself on track, but with still enough leeway to have fun and do whatever comes to mind. My technique, may not work for you, just like the journal idea doesn't work for me. But ultimately blogging needs to be fun, and it needs to be compatible with you!
I hope I gave you some other ways of staying organized without keeping yourself on a extremely strict schedule! Feel free to comment down below with how you run things over at your blog! I'm always trying new things to change and improve! Thank you!