The first book I purchased from Barnes and Noble (well my dad payed for it) was
Coffee House Angel by Suzanne Selfors
...
"The first time Katrina saw Malcolm, he was lying in the alley behind her grandmother's coffeehouse. she didn't think that giving him a cup of coffee and yesterdays pastries was such a big deal. But now he's following her everywhere, claiming to be an angel who must repay her kindness by granting her deepest wish. Although Malcolm happens to be pretty adorable, Katrina is also convinced that he's a little bit crazy. Whether she believes in him or not, Malcolm is determined to fulfill her wish for true happiness. so what happens when you lie to an angel about what you most desire?"



And the second book was
Jenna and Jonah's Fauxmance...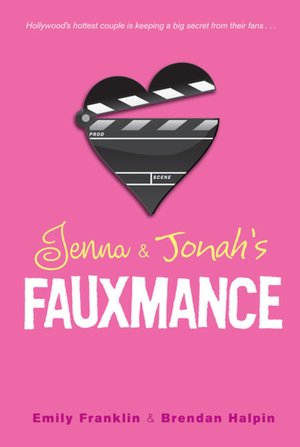 "Charlie Tracker and Fielding Withershave two jobs. One is to star in their hit show, Jenna &Jonah's How to Be a Rock star, and the other is to star in their own lives. Pretending to be a real-life couple just like their on-screen alter egos, Charlie and Fielding pose for the cameras and cuddle on cue to maintain their fauxmance, all for the sake of the show's rating. The only problem? They can barely stand each other. When a pesky member of the paparazzi starts an explosive rumor about Fielding that could destroy not only their fauxmance but both of their careers, they drop off the grid until the headlines calm down. Far from the glitz and glamour of Hollywood, Charlie and Fielding finally get to know each other as something more than cogs in the wheel of the Jenna & Jonah enterprise. Will they like what they see? Or has this fauxmance-gone-wrong ruined their chance for real love?"