On Monday I reintroduced myself...and today is Friday, which means it's about time I introduce you all to my planner!
I'm not too picky when it comes to the planner I want, ultimately it needs to have a cute cover, be simply and basic inside, and start/end in July. Cute cover, because who doesn't want one. Basic inside, so I can decorate and design to my hearts content. Start and end in July, because I'm a student, and enjoy having a new planner at the start of the new school year.
Other than those three conditions I was open to any "type" or "brand" of planner. Before I finally made my choice, I did do some looking around and searching. I'm new to the entire planning community, so I learned a lot when I did. Two of the most popular planners are the Erin Condren planners and the Plum planners. But when I made this purchase the 2015/2016 Erin Condren planners weren't available yet, and I hadn't heard too much about the Plum planners.
After watching tons of videos, unboxings and reviews, both brands sound absolutely amazing, and I hope to purchase their products in the future.
But because I'm still so new to planning, I decided to go with something a little bit less expensive, and then work my way up from there. After spending a few days searching for the PERFECT planner, I went with the
Posy Paper 2015/2016 Navy Pink Floral Gold Pattern.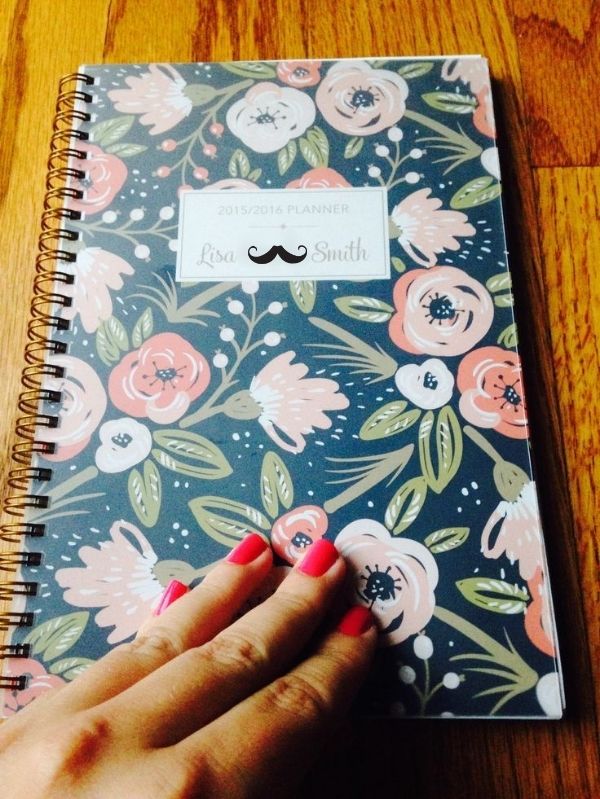 Carolyn, the owner of
Posy Paper
wraps this delicious planner in the prettiest brown envelope, and packages it in a plastic wrap. Nothing was damaged, ripped or bent! After making your order, you are sent a message, asking what name you would like to have written on the cover. I decided to put my full name, but for these pictures I blurred out my middle name and added a mustache...(sorry to disappoint..the mustache doesn't come with it...) The font style and color is absolutely gorgeous!
What I didn't know about this planner, was that it came with plastic covers, for both the front and the back. The floral cover is made from a harder card stock (not just paper), which is unlikely to rip, but it's still REALLY nice to have that extra protection!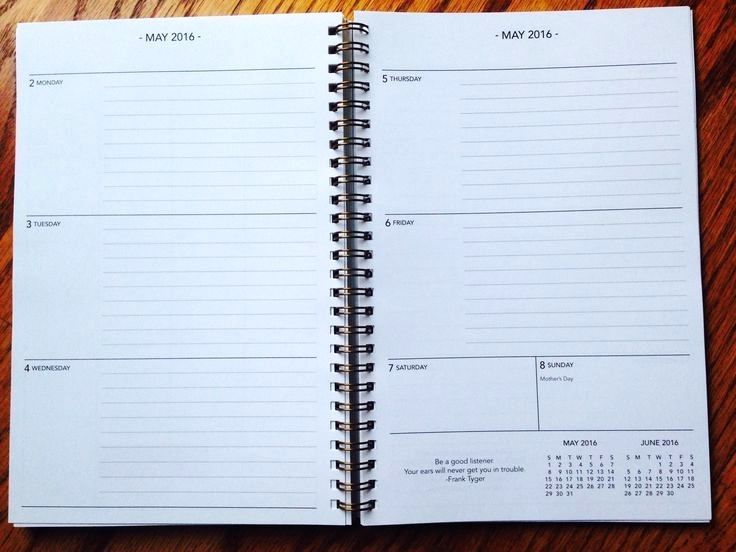 (Weekly View)
While the cover is cute, and the entire book seems to be really well made, a planner is useless if it isn't practical and spacious. I have pretty big hand writing and I intend to decorate each month and week, I wanted something that was basic, and big. This planner is exactly that!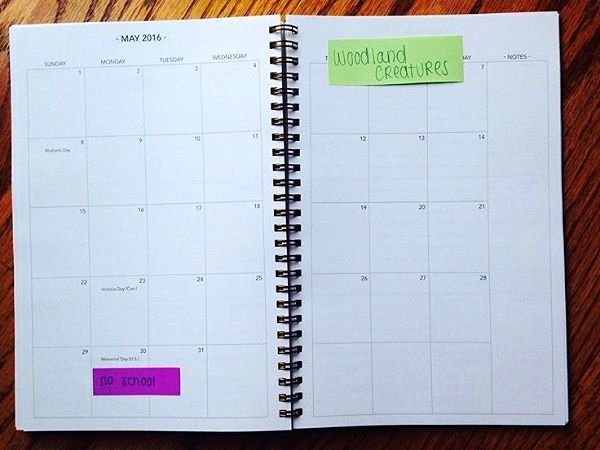 (Monthly View)
As you can probably see, I've already started doing to pre-planning!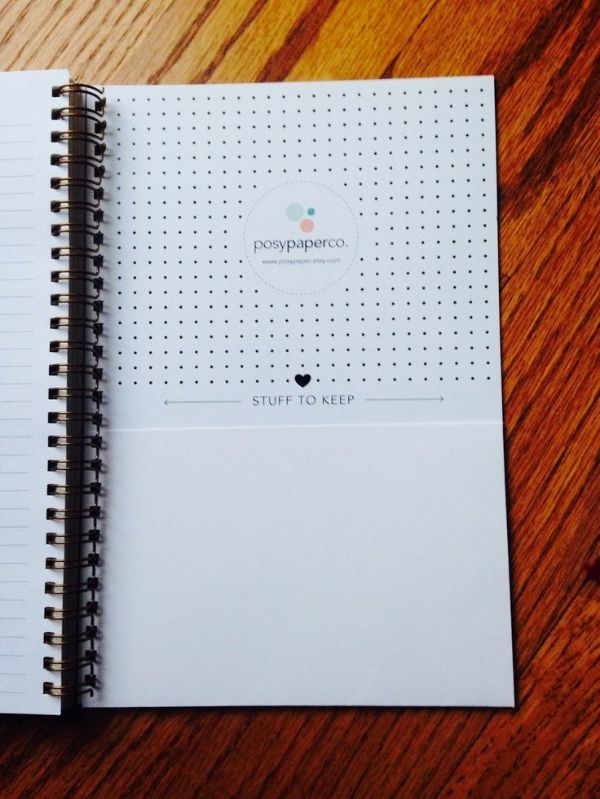 And lastly, it comes with this pocket at the very end. I think it's cute and well thought out, but I don't know how I plan on using it just yet. Maybe to keep some sticky notes in, or the current sticker sheets I'm decorating with. I don't really know, I'll still have to think of something!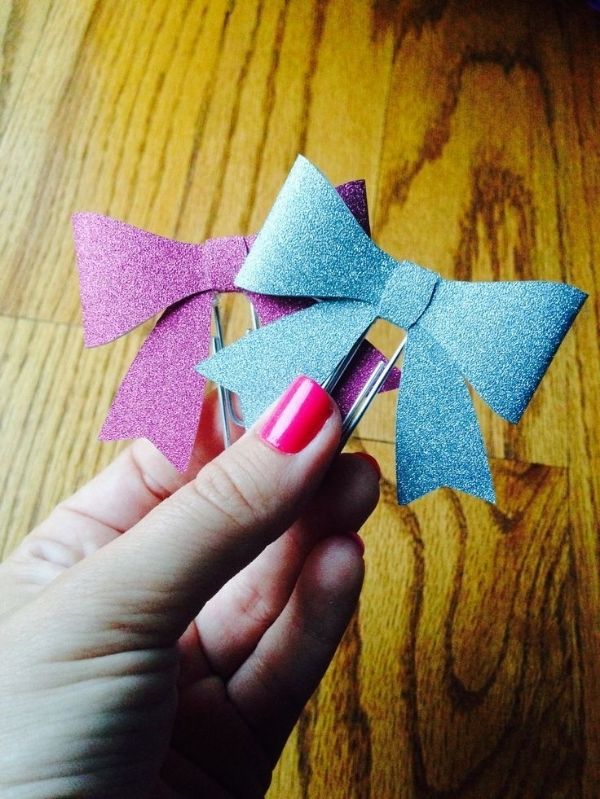 The only accessories I have right now (which probably will be changing very soon) are these two glitter bow paper clips from Two Krafty Chicks. I'm using these to keep my place for the current month and the current week...or else it would take me forever to find the right page every single time.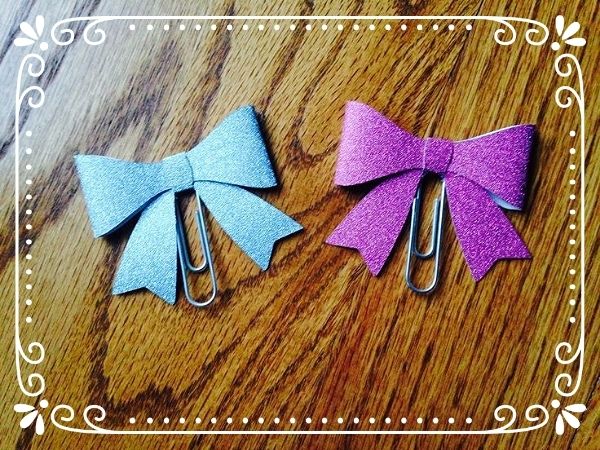 Another accessory I hope to purchase in the future is a band to wrap around my planner, to keep it nice and closed!