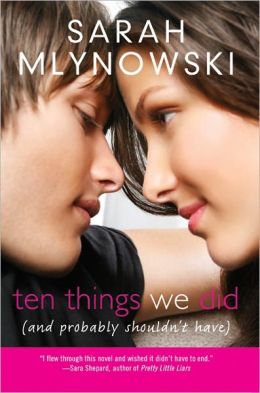 Title:
Ten Things We Did (And Probably Shouldn't Have).
Author:
Sarah Mlynowski.
Summary:
"2 girls + 3 guys + 1 house – parents = 10 things April and her friends did that they (definitely, maybe, probably) shouldn't have. If given the opportunity, what sixteen-year-old wouldn't jump at the chance to move in with a friend and live parent-free? Although maybe "opportunity" isn't the right word, since April had to tell her dad a tiny little untruth to make it happen (see #1: "Lied to Our Parents"). But she and her housemate Vi are totally responsible and able to take care of themselves. How they ended up "Skipping School" (#3), "Throwing a Crazy Party" (#8), "Buying a Hot Tub" (#4), and, um, "Harboring a Fugitive" (#7) at all is kind of a mystery to them."
My Thoughts So Far:
Really loving this book, and it fits right in with the theme of books I've been reading lately. Ten Things We Did, follows the story of a girl who's dad and step mother mom away, and she is left to live with her best friend for the last semester of the school year. But what her (uptight) dad doesn't know, is that she is in this house without any parental supervision, that she is on birth control, and is spending the money he's sending her on everything but rent.
I can't wait to see what the rest of the ten things are, since the book goes in order accordingly!