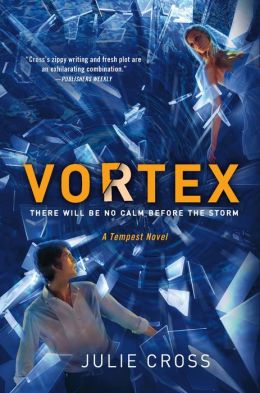 Title:
Vortex.
Author:
Julie Cross.
Format:
Audiobook.
Pages:
N/A
Series:
Yes, #2.
Source:
Publisher.
Publisher:
St. Martin's Press.
Published Date:
1/15/2013.
Links:
Goodreads.
Barnes and Noble.
Summary:
"Jackson Meyer has thrown himself into his role as an agent for Tempest, the shadowy division of the CIA that handles all time-travel-related threats. Despite his heartbreak at losing the love of his life, Jackson has proved himself to be an excellent agent. However, after an accidental run in with Holly—the girl he altered history to save—Jackson is once again reminded of what he's lost. And when Eyewall, an opposing division of the CIA, emerges, Jackson and his fellow agents not only find themselves under attack, but Jackson begins to discover that the world around him has changed and someone knows about his erased relationship with Holly, putting both their lives at risk all over again."
My Thoughts:
After reading, falling in love, and having my heart crushed in the first book, Tempest, I had enormous expectations from Julie Cross, and her writing in this second installment, Vortex. The thing that really sticks out about this series is the writing style and the world created within it. Its not hard to get lost in the story, the different types of jumps, the different worlds, and which year he might be in, but if you keep up with everything, it will be very rewarding! With such a captivating start, and a compelling continuation, once again I have monumental expectations for the third and final book in the series!
Jackson Meyer is a normal teenage guy....wait..who am I kidding? He's...inlovewithagirlwhohechangedhistorytosave, and nowisaagentintheCIA!!! WOOH!
Joining a special division in the CIA, which deals with time travel and the affects of it, Vortex starts with Jackson's training and he's first few missions, one of which includes a very special girl... Holly. Conflicted between what he should be doing and his heart Jackson tries to keep a hard exterior, while his interior is slowly breaking.
Unsure as to why Holly is an agent in Eyewall, Jackson has to keep his act together, save the girl he loves, keep time in its place, and find out who he really is, and where he's from.
Vortex had so much going, had me feeling every emotion possible, and even when I was balling my eyes out, I couldn't get enough of the story, and the romance between Jackson and Holly...even though Holly doesn't know it half of the time..
Once I get my hands the third and finally book in this trilogy, it'll go right to the top of my TBR pile!