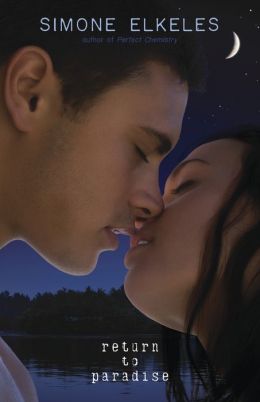 Title:
Return To Paradise.
Author:
Simone Elkeles.
Format:
Paperback.
Pages:
302.
Series:
Yes, #2.
Source:
Purchased.
Publisher:
Llewellyn Worldwide.
Published Date:
9/28/10
Links:
Goodreads.
Barnes and Noble.
Summary:
"Caleb Becker left Paradise eight months ago, taking with him the secret he promised to take to his grave. If the truth got out, it would ruin everything. Maggie Armstrong tried to be strong after Caleb broke her heart and disappeared. Somehow, she managed to move on. She's determined to make a new life for herself. But then Caleb and Maggie are forced together on a summer trip. They try ignoring their passion for each other, but buried feelings resurface. Caleb must face the truth about the night of Maggie's accident, or the secret that destroyed their relationship will forever stand between them."
Cover:
Just like the first book in this series, I don't really think much of the cover. The stories inside, aren't reflected very well by their covers.
My Thoughts:
Eight months ago Caleb decided to leave Paradise, assuming it was the best for him and his future. Trying to build a better future for himself, Caleb not only leaves his past, and family behind, but also the girl he loves, in Paradise. Staying in Chicago, doesn't do anything good for Caleb, instead he gets himself in trouble again.
Staying behind in Paradise, without Caleb, Maggie begins to start her life over again. And she is doing well, until Maggie is asked to go on a three week long trip, traveling place to place to telling the story of what happened to her leg, and runs into Caleb...who is also doing this trip. Not just to tell his story, but to make sure he doesn't go to prison again.
Return to Paradise follows Caleb and Maggie's three week long trip, what happens to the two, and if they'll get back together!
Simone Elkeles is the author of one of my favorite series, Perfect Chemistry, loving those three books so much, I decided to read this series. Leaving Paradise was a bit comparable to the Perfect Chemistry series, and I was okay with that, it's actually what I wanted. I liked the characters, I liked the way they acted, and started to have feelings for one another. I overall, really enjoyed the story.
Return to Paradise started off and ended good. But the middle is a whole different story. The beginning explains what trouble Caleb gets himself in, and how him and Maggie stumble upon each other, while the middle was their entire trip. The middle of their story was a bit frustrating, the way Maggie and Caleb were both unsure of what they wanted, one minute they didn't like each other, and the next they were in love. It was just too lovey dovey for two people who claim to hate and not want to be with each other. Another thing that really bothered me about this book was the things that Caleb said. He said things that no real guy would say, he never really thought about what he was saying, and just blurted everything out. He would say something to Maggie, and then before he could barely finish his sentence, he would ask her to forget whatever it is that he had said. He went from being this tough juvie guy (in the first book) to this guy who can't keep his emotions in (second book).
While the middle wasn't very enjoyable for me, I loved the beginning, and the way Simone Elkeles introduced the characters again, and I loved the ending, because of the way things worked out for the two love birds, and how the truth finally came out.
If I had to choose between this series and the Perfect Chemistry series, I would pick the Perfect Chemistry series, the guys are more realistic and more of my type of guys. I did enjoy this series as well, but I wish Caleb wouldn't act the way he did in the second book.