Welcome to Turning Pages!
This week I have three awesome books, one of which I already gobbled up, and two that I can't wait to finally get started!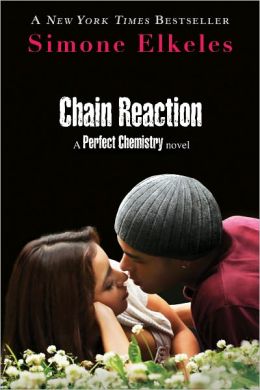 Chain Reaction, by Simone Elkeles.
"Luis Fuentes has always been sheltered from the gang violence that nearly destroyed his brothers' lives. But that hasn't stopped him from other thrill-seeking behavior—like scaling a mountain in the Rockies or dreaming of a future as an astronaut. Nikki Cruz lives her life by three rules—boys lie to get their way, don't trust a boy who says "I love you," and never date a boy from the south side of Fairfield. Then she meets Luis at his brother Alex's wedding, and suddenly she's tempted to break all her rules. Getting Nikki to take a chance on a south sider is Luis's biggest challenge, until he finds himself targeted by Chuy Soto, the new head of the Latino Blood. When Chuy reveals a disturbing secret about Luis's family, the youngest Fuentes finds himself questioning everything he's ever believed to be true. Will his feelings for Nikki be enough to stop Luis from entering a dark and violent world?"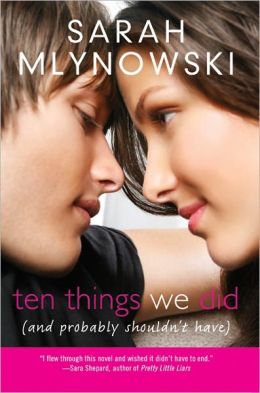 Ten Things We Did (And Probably Shouldn't Have) by Sarah Mlynowski.
"If given the opportunity, what sixteen-year-old wouldn't jump at the chance to move in with a friend and live parent-free? Although maybe "opportunity" isn't the right word, since April had to tell her dad a tiny little untruth to make it happen (see #1: "Lied to Our Parents"). But she and her housemate Vi are totally responsible and able to take care of themselves. How they ended up "Skipping School" (#3), "Buying a Hot Tub" (#4), and, um, "Harboring a Fugitive" (#7) is a mystery to them. To get through the year, April will have to juggle a love triangle, learn to do her own laundry, and accept that her carefully constructed world just might be falling apart . . . one thing-she-shouldn't-have-done at a time."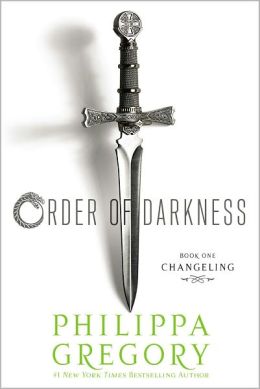 Order of Darkness, by Philippa Gregory.
"Dark myths, medieval secrets, intrigue, and romance populate the pages of this first in a four-book teen series from the #1 bestselling author of The Other Boleyn Girl. The year is 1453 and all signs point to it being the end of the world. Accused of heresy and expelled from his monastery, handsome seventeen-year-old Luca Vero is recruited by a mysterious stranger to record the end of times across Europe. Commanded by sealed orders, Luca is sent to map the fears of Christendom and travel to the very frontier of good and evil. Seventeen-year-old Isolde, a Lady Abbess, is trapped in a nunnery to prevent her from claiming her rich inheritance. As the nuns in her care are driven mad by strange visions, walking in their sleep, and showing bleeding wounds, Luca is sent to investigate and driven to accuse her. Forced to face the greatest fears of the dark ages—witchcraft, werewolves, madness—Luca and Isolde embark on a search for truth, their own destinies, and even love as they take the unknown ways to the real historical figure who defends the boundaries of Christendom and holds the secrets of the Order of Darkness."
Thank you for stopping by! Make sure to leave a comment to any of your recent book hauls!