Welcome to Turning Pages!
And to another WWW Wednesday!
What am I currently reading?
Right now I'm in the middle of Stage Fright, by Marianne Delacourt! Even though I'm about 80 pages into it, I'm really starting to enjoy it, and can't wait to see what it has in store.
What did I just finish reading?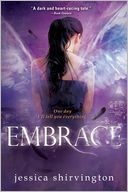 Last week I finished reading Embrace by Jessica Shirvington, and loved it! I'm excited to finally get the time to write and post my review, make sure to stop by when I do!
What do I plan on reading next?
I'm actually not sure as of right now, because I haven't decided on the books I plan on reading in October, but my TBR for next month will be posted by the 1st!
Thank you so much for stopping by, make sure to comment with the link to your WWW Wednesday post!