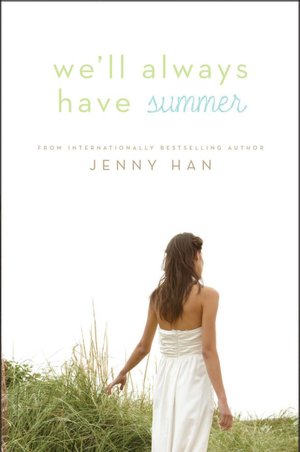 Title:
We'll Always Have Summer.
Author:
Jenny Han.
Format:
Hardback.
Pages:
291.
Series:
Yes, #3.
Source:
Purchased.
Publisher:
Simon & Schuster.
Published Date:
April 26, 2011.
Links:
Goodreads
Barnes and Noble
Summary:
Goodreads
"It's been two years since Conrad told Belly to go with Jeremiah. She and Jeremiah have been inseparable ever since, even attending the same college-- only, their relationship hasn't exactly been the happily ever after Belly had hoped it would be. And when Jeremiah makes the worst mistake a boy can make, Belly is forced to question what she thought was true love. Does she really have a future with Jeremiah? Has she ever gotten over Conrad? It's time for Belly to decide, once and for all, who has her heart forever."
Barnes and Noble
"Can Belly make a final choice between Jeremiah and Conrad? Find out in the conclusion of the New York Times bestselling The Summer I Turned Pretty trilogy, now in paperback. Belly has only ever been in love with two boys, both with the last name Fisher. And after being with Jeremiah for the last two years, she's almost positive he is her soul mate. Almost. While Conrad has not gotten over the mistake of letting Belly go, Jeremiah has always known that Belly is the girl for him. So when Belly and Jeremiah decide to make things forever, Conrad realizes that it's now or never—tell Belly he loves her, or lose her for good. Belly will have to confront her feelings for Jeremiah and Conrad and face the inevitable: She will have to break one of their hearts."
Cover:
The covers and titles of each book in this series give a lot away about the story inside. "The Summer I Turned Pretty", already provides us that the main character is a girl (probably a younger teen), who is growing up, finding herself, and the person she wants to be. While the cover of the first book shows that the main character is really close to these two boys, the cover of the second book, It's Not Summer Without You, shows some distance between each of them (and the title is also a huge hint to the seperation!). We'll Always Have Summer, means this is something they'll share forever. On the cover of this last and final book, the main character is wearing a wedding dress, giving away a enormous hint that she might be the one getting married!
My Thoughts:
We'll Always Have Summer takes place two years later from where It's Not Summer Without You ends. Belly has been dating Jeremiah since, and both are attending the same college, Belly as a freshmen and Jeremiah as a sophomore. But finals are coming up fast, meaning school's almost out, and summer's just around the corner.
Right now things between the two loves birds seem to be perfect. Jeremiah comes and visits Belly in her dorm room almost everyday (since he lives in a Frat), and even with a small hiccup back before spring break, things just couldn't be any better.
Feeling awesome about her finals, Belly heads over to a end of the year party at Jeremiah's Frat house. To dance, chat, and just spend time with Jeremiah. Heading to the bathroom upstairs, Belly over hears a conversation from a few of Jeremiah's Sorority sisters about spring break in Cabo (the hiccup I was talking about above). She can't believe her ears, are they talking about Jeremiah? Would Jeremiah ever do anything, knowing it would hurt her so much? Never.
Running back down the stairs from the bathroom, Belly confronts Jeremiah about the whole thing, just to learn that it was all true. He did do it. And he felt sorry. But Belly didn't care, she was hurt, she would never have expected
him
, her Jeremiah to something like that to her.
Will the two get back together? What will become of this summer at the beach house? Will Conrad be there? Will Belly be with one of the two Fishermen boys forever, like their mothers always wanted her to?
This is the perfect trilogy for summer, but I can't promise it will last you long!
My expectations from this third and final book, were out of the roof! But yet again, Jenny Han slams it out of the park, with her story line, her voice, the main characters, their growth, everything about this book was amazing! I can't say one bad thing, expect I wish it was longer! Trying to savor every little page to make it last, I finished this book in a day and a half, wishing I would have read a lot slower.
I hope to read more from Jenny Han!
Have you read this series? Comment down below!