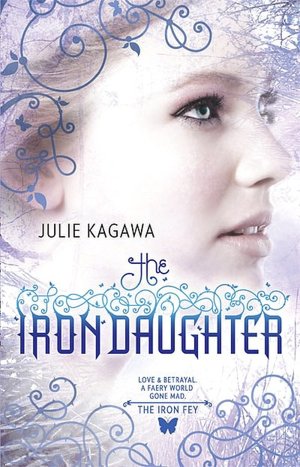 Title:
The Iron Daughter.
Author:
Julie Kagawa.
Format:
Paperback.
Pages:
304.
Series:
Yes, Iron Fey #2.
Source:
Purchased.
Publisher:
Harlequin.
Published Date:
8/1/2010.
Links:
Goodreads.
Barnes and Noble.
Summary:
Goodreads & Barnes and Noble
"Half Summer faery princess, half human, Meghan has never fit in anywhere. Deserted by the Winter prince she thought loved her, she is prisoner to the Winter faery queen. As war looms between Summer and Winter, Meghan knows that the real danger comes from the Iron fey—ironbound faeries that only she and her absent prince have seen. But no one believes her. Worse, Meghan's own fey powers have been cut off. She's stuck in Faery with only her wits for help. Trusting anyone would be foolish. Trusting a seeming traitor could be deadly. But even as she grows a backbone of iron, Meghan can't help but hear the whispers of longing in her all-too-human heart."
First & Last Line:
"The Iron King stood before me, magnificent in his beauty, silver hair whipping about like an unruly waterfall."
"'Then I'm never coming back,' I said softly, and went through the arch, leaving Faery behind me forever."
Cover:
Each and every book in the Iron Fey series has a gorgeous cover, they each match perfectly and look astonishing while sitting on my shelf! I adore the cover of The Iron Daughter, it's my favorite! Not only is purple my color, but I love the detail put, not only on the cover, but at the beginning of each chapter as well. Looking close at the swirls, they seem to be vines growing with thorns, and little butterflies swarming around them.
My Thoughts:
The Iron Daughter is the second installment in the Iron Fey series by Julie Kagawa, the first being The Iron King. I don't want to give away too much of the first book (or this one as a matter of fact either), but I'll try my best to summarize without giving the entire plot away.
Meghan Chase is a regular girl, going to school like the most of us do. Until one day her little brother is kidnapped, and replaced with a out of this world creature. So Meghan decides it's her duty to go to this other world, and get her brother back, along with the help of her best friend (who she learns isn't who she always thought he was!).
Going to this other world, Meghan meets a lot of strange people (and animals/creatures) she never knew existed. From here on out her life does a total 360 and nothing is the same anymore. Meghan questions everything and everyone she's ever known.
Not being able to return to earth, Meghan has to up hold her part of her deal to Ash (the ice prince, who she begged for help, offering him anything just to get her little brother back).
In the second book the sceptor of the seasons is stolen by the new Iron King. Not knowing what to do Meghan tries to explain to the Queen of Ice, Mab that it wasn't Summer that stole it. Meghan, Puck, and even Ash (after many difficulties) leave Feary and go to Earth looking for the stolen sceptor...hopefully in time, before war breaks out between the two seasons..will they get there in time?
Going into The Iron Daughter, I didn't have many expectactions. It was just another book that needed to get read. Since I didn't like nor enjoy the first book very much, I went into the second with a bad taste in my mouth. I just had a hard time getting through every chapter, and struggled to get myself to pick up the book at all.
BUUUUT! Unlike The Iron King, The Iron Daughter hit it out of the park! I enjoyed the character development, especially between Ash and Meghan, and I couldn't get enough of the ending (I swear I read the last chapter four times). Looking back at the beginning, and the way Julie Kagawa explained what could happen if Summer and Winter ever fell in love with one another, the ending was perfect and couldn't have been any better.
If you didn't like the first book, I would recommend giving the second one a chance, I'm glad I did!