Happy Sunday!!
I know, I usually like making vlogs to show you guys what I got throughout the week, but it's already six thirty and my lighting just sucks. A post will be just fine too!
Here's what I got:
Burn Bright, by Marianne De Pierres.
"In Ixion music and party are our only beliefs. Darkness is our comfort. We have few rules but they are absolute . . .
Retra doesn't want to go to Ixion, the island of ever-night, ever-youth and never-sleep. Retra is a Seal – sealed minds, sealed community. She doesn't crave parties and pleasure, experience and freedom.
But her brother Joel left for Ixion two years ago, and Retra is determined to find him. Braving the intense pain of her obedience strip to escape the only home she's ever known, Retra stows away on the barge that will take her to her brother.
When she can't find Joel, Retra finds herself drawn deeper into the intoxicating world of Ixion. Come to me, whispers a voice in her head. Who are the Ripers, the mysterious guardians of Ixion? What are the Night Creatures Retra can see in the shadows? And what happens to those who grow too old for Ixion?
Retra will find that Ixion has its pleasures, but its secrets are deadly. Will friendship, and the creation of an eternal bond with a Riper, be enough to save her from the darkness?
Listen well, baby bats. Burn bright, but do not stray from the paths. Remember, when you live in a place of darkness you also live with creatures of the dark."
Angel Arias, by Marianne De Pierres.
"In the sequel to Burn Bright, Naif is caught in the unrest on the island owned by the pirate, Ruzalia. To stop Ruzalia harming the rebels, and to uncover more answers to the mysteries of Ixion, she has to return to Grave. There she confronts her domineering father and the sinister Grave Elders."
Shadowfever, by Karen Marie Moning.
""Evil is a completely different creature, Mac. Evil is bad that believes it's good." MacKayla Lane was just a child when she and her sister, Alina, were given up for adoption and banished from Ireland forever.
Twenty years later, Alina is dead and Mac has returned to the country that expelled them to hunt her sister's murderer. But after discovering that she descends from a bloodline both gifted and cursed, Mac is plunged into a secret history: an ancient conflict between humans and immortals who have lived concealed among us for thousands of years.
What follows is a shocking chain of events with devastating consequences, and now Mac struggles to cope with grief while continuing her mission to acquire and control the Sinsar Dubh—a book of dark, forbidden magic scribed by the mythical Unseelie King, containing the power to create and destroy worlds.
In an epic battle between humans and Fae, the hunter becomes the hunted when the Sinsar Dubh turns on Mac and begins mowing a deadly path through those she loves. Who can she turn to? Who can she trust? Who is the woman haunting her dreams? More important, who is Mac herself and what is the destiny she glimpses in the black and crimson designs of an ancient tarot card? From the luxury of the Lord Master's penthouse to the sordid depths of an Unseelie nightclub, from the erotic bed of her lover..."
Fade, by Lisa McMann.
"SOME NIGHTMARES NEVER END.
For Janie and Cabel, real life is getting tougher than the dreams. They're just trying to carve out a little (secret) time together, but no such luck.
Disturbing things are happening at Fieldridge High, yet nobody's talking. When Janie taps into a classmate's violent nightmares, the case finally breaks open — but nothing goes as planned. Not even close. Janie's in way over her head, and Cabe's shocking behavior has grave consequences for them both.
Worse yet, Janie learns the truth about herself and her ability — and it's bleak. Seriously, brutally bleak. Not only is her fate as a dream catcher sealed, but what's to come is way darker than she'd feared...."
Gone, by Lisa McMann.
"Janie thought she knew what her future held. And she thought she'd made her peace with it. But she can't handle dragging Cabel down with her.
She knows he will stay with her, despite what she sees in his dreams. He's amazing. And she's a train wreck. Janie sees only one way to give him the life he deserves—she has to disappear. And it's going to kill them both.
Then a stranger enters her life—and everything unravels. The future Janie once faced now has an ominous twist, and her choices are more dire than she'd ever thought possible. She alone must decide between the lesser of two evils. And time is running out...."
Shadow Kiss, by Richelle Mead.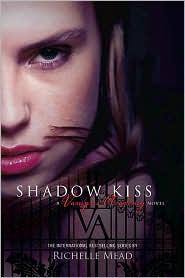 "Is Rose's fate to kill the person she loves most? It's springtime at St. Vladimir's Academy, and Rose Hathaway is this close to graduation. Since Mason's death, Rose hasn't been feeling quite right. She has dark flashbacks in the middle of practice, can't concentrate in class, and has terrifying dreams about Lissa. But Rose has an even bigger secret . . . .She's in love with Dimitri. And this time, it's way more than a crush.
Then Strigoi target the academy in the deadliest attack in Moroi history, and Dimitri is taken. Rose must protect Lissa at all costs, but keeping her best friend safe could mean losing Dimitri forever…"