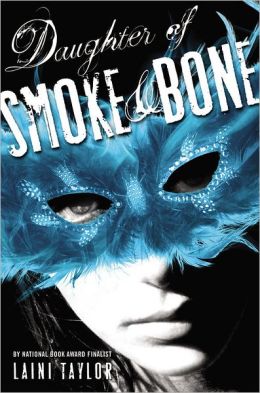 Title:
Daughter of Smoke and Bone.
Author:
Laini Taylor.
Format:
Hardback.
Pages:
417.
Series:
Yes, #1.
Source:
Purchased.
Publisher:
Little Brown.
Published Date:
9/27/11
Links:
Goodreads.
Barnes and Noble.
Summary:
"Around the world, black hand prints are appearing on doorways, scorched there by winged strangers who have crept through a slit in the sky. In a dark and dusty shop, a devil's supply of human teeth grows dangerously low. And in the tangled lanes of Prague, a young art student is about to be caught up in a brutal otherwordly war. Meet Karou. She fills her sketchbooks with monsters that may or may not be real; she's prone to disappearing on mysterious "errands"; she speaks many languages—not all of them human; and her bright blue hair actually grows out of her head that color. Who is she? That is the question that haunts her, and she's about to find out. When one of the strangers—beautiful, haunted Akiva—fixes his fire-colored eyes on her in an alley in Marrakesh, the result is blood and starlight, secrets unveiled, and a star-crossed love whose roots drink deep of a violent past. But will Karou live to regret learning the truth about herself?"
First & Last Line:
"Walking to school over the snow-muffled cobbles, Karou had no sinister premonitions about the day."
"'They're dead, Karou. It's too late. They're all dead."
Cover:
Uhmm, can you say AMAZING?! Besides the interesting summary the inside flat gave me, the cover was the second thing that really pulled me in. (And of course, the curious to see what everyone thought was so great about this book, to where they could go a day without telling me to read it!)
My Thoughts:
Going into Daughter of Smoke and Bone, I had ridiculously high expectations, due to everyone raving about this book, its characters and the story overall. Before deciding to finally pick it up myself, and dive in to what would be the "BEST STORY I'VE EVER READ, IN THIS LIFE AND THE NEXT" (as described by my best friend) I made sure to read a few reviews; not one had a bad thing to say.
And before you continue reading this review, my review, I just want to let you know this is going to be another one of those reviews. Where I do nothing but rant on and on about how I couldn't get enough of the main characters, and the entirely different world Taylor created! So consider that as your warning...!
Daughter of Smoke and Bone had a lot to cover, from introducing this brand new world, the many characters, the history and information you needed to know to understand why things happened when, usually I find this part to be a bit too detailed and dragged out, but Laini Taylor did an amazing job. I really enjoyed the flow of the book, never did I feel confused, or like information (important or not) was thrown at me. I felt that everything the reader needed to understand, was introduced and explained at the perfect time for the story to run smoothly.
The main character Karou really reminded me like one of my really close friends, who loves drawing, sketching and painting just as much as she did. Whenever the story talked about Karou's work, or art classes I could easily imagine what it would look like or be like for her.
Brimstone was the character that I started out not really having an opinion about, I didn't love nor hate him, but going farther into the story, and getting to know who he is, what he does, and what he did for Karou many years ago, is what made him one of my favorite characters in this story!
The ending? I have absolutely no words for it. I'm afraid to say anything at all, because I don't want to give it away to any of those who haven't gotten the change to read the Daughter of Smoke and Bone. But I could never have imagined this ending, I had something totally different in mind, but my guess was quickly knocked out of the park, and I can't wait to get started on the second book!
If you haven't jumped on this bandwagon, you really need to, because just like me, you'll regret not reading it much much earlier!