Welcome to Turning Pages!
Happy Monday!
School is almost out, this is my last week! So I decided to spoil myself and went out and bought two books (and two act/sat books, but we don't like those!), I can't wait to spend all summer relaxing and reading! (I', so jealous of you who are already doing that!!!)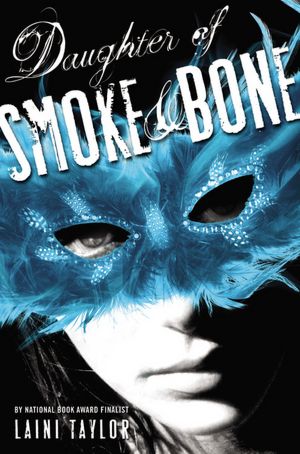 Daughter of Smoke and Bone, by Laini Taylor.
"Around the world, black handprints are appearing on doorways, scorched there by winged strangers who have crept through a slit in the sky. In a dark and dusty shop, a devil's supply of human teeth grown dangerously low. And in the tangled lanes of Prague, a young art student is about to be caught up in a brutal otherwordly war. Meet Karou. She fills her sketchbooks with monsters that may or may not be real; she's prone to disappearing on mysterious "errands"; she speaks many languages—not all of them human; and her bright blue hair actually grows out of her head that color. Who is she? That is the question that haunts her, and she's about to find out. When one of the strangers—beautiful, haunted Akiva—fixes his fire-colored eyes on her in an alley in Marrakesh, the result is blood and starlight, secrets unveiled, and a star-crossed love whose roots drink deep of a violent past. But will Karou live to regret learning the truth about herself?"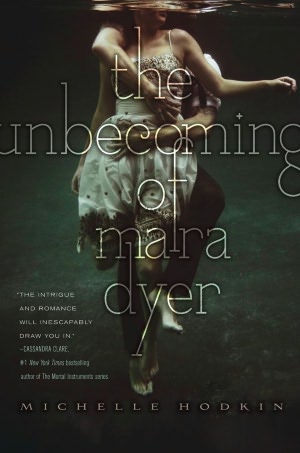 The Unbecoming of Mara Dyer, by Michelle Hodkin.
"Mara Dyer doesn't know if she is crazy or haunted—all she knows is that everyone around her is dying in this suspenseful and "strong, inventive tale" (Kirkus Reviews). Mara Dyer doesn't think life can get any stranger than waking up in a hospital with no memory of how she got there. It can. She believes there must be more to the accident she can't remember that killed her friends and left her mysteriously unharmed. There is. She doesn't believe that after everything she's been through, she can fall in love. She's wrong. After Mara survives the traumatizing accident at the old asylum, it makes sense that she has issues. She lost her best friend, her boyfriend, and her boyfriend's sister, and as if that weren't enough to cope with, her family moves to a new state in order to give her a fresh start. But that fresh start is quickly filled with hallucinations—or are they premonitions?—and then corpses, and the boundary between reality and nightmare is wavering. At school, there's Noah, a devastatingly handsome charmer who seems determined to help Mara piece together what's real, what's imagined—and what's very, very dangerous. This fast-paced psychological—or is it paranormal?—thriller will leave you breathless for its sequel, The Evolution of Mara Dyer."
Read any of these two books? Comment down below, but NO SPOILERS! Pretty please (;