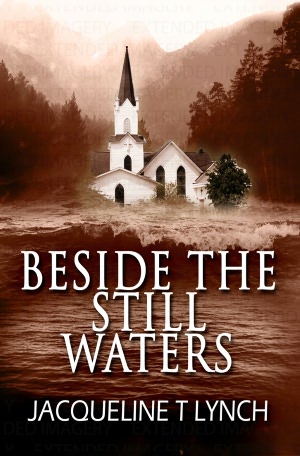 "Four towns, gone. Dismantled slowly while their inhabitants grieve for a history and heritage that has been voted away from them. The present threatens; the future belongs to the fearless.

"Beside the Still Waters" is a family saga based on an actual event which displaced four entire towns in central Massachusetts for the construction of a reservoir. Today, the Quabbin Reservoir provides water for millions of citizens, primarily in the greater Boston area.

Families are divided between those who protest the construction project, those who give up and leave, and those who help to build it. The central character is Jenny, a girl who comes of age facing the extinction of her community, who becomes the guardian of her family's heritage, and ultimately, the one to decide what happens to them.

A rift between two brothers, Eli and John Vaughn, at the turn of the 20th Century continues through to the next generation as John tries to use Jenny, Eli's daughter, in a plot to regain the family farm from Alonzo, who now runs it, who is Jenny's love. John is broke and eager to sell the farm to the state, which is buying up area property for the coming reservoir. Both Alonzo and Eli refuse to sell their properties, and protest removal by eminent domain. Torn between loyalty to her family and heritage, and the allure of a future beyond the valley, Jenny refuses to remain powerless like the men she loves, but looks for a way to take control. A disastrous decision may prove fatal in a race against time."
Welcome to Turning Pages!

Today we have a guest post from the author of Beside the Still Waters, Jacqueline Lynch! Please give her a warm welcome!
The past is alive and all around us. A writer of historical fiction must be attuned to this, or the story will seem dead, nothing more than a flat exercise in spewing facts. In "Beside the Still Waters", I cover a period from about 1904 to 1938, years which some publishers and some readers might not consider "historical". Historical fiction usually carries the veneer of castles and gothic romance.
Still, there is a gothic element and a romantic element, but they are couched in the soul-grinding business of feeding one's family in a remote hill town that, along with its neighbors on the valley floor, is destined to be plucked apart, systematically, and obliterated by a controlled flood of water. But the power of their heritage and their memory of their communities never goes away. The past lives on.
We are all living history. It is not a remote, far-away place. I think I first became aware of this when as a child of older parents whose own childhoods, which influenced me through their stories, occurred in the 1920s and 1930s. I grew up in the 1970s, which was a decade peculiarly devoted to nostalgia. The past became hip culture and big business.
These days, what had been "The Waltons" and "Happy Days" is now "Mad Men" and "Pan Am" on TV. You know you're getting older when the decades you actually lived through are considered History.
We rarely move forward without first looking over our shoulder.
What helped enormously in the research for "Beside the Still Waters", was being able to interview, and even become friends with, a handful of so-called "survivors" who had grown up in those doomed towns. In their golden years, they were ready to remember and share their stories. They brought the past alive for me in a way documents and photographs never would. The novel is dedicated to them.
Unlike myself, who grew up in an age devoted to nostalgic curiosity, to the point of romanticizing past decades -- only to be surprised as an adult as my era becomes romanticized, they grew up in an environment where they knew they were locked in time. There would be no future generations. It ended with them. One day, there would be no one to mythologize their experience.
I hope that "Beside the Still Waters" at least commemorates their existence. They were plain, simple people. They wouldn't have wanted a lot of romanticizing. It was the Swift River Valley, after all -- not Brigadoon.