In my last post I discussed with you how finals, basically are consuming my life right now. If I'm not studying for one class, I'm studying for another. If I'm not studying for either, I'm either sleeping, eating or attempting to squish in some blogging time.
So I don't know how much reading time I'll be able to get in during these next few days. Reading usually calms me down, and brings me joy in times of stress, so I'll probably do an hour or so of reading every night, in the hopes of going to be not a complete ball of stress and anxiety.
Right now I'm in the middle of reading the first book in the Birthright Trilogy, All These Things I've Done by Gabrielle Zevin. This trilogy has been on my shelf for a while now, so that's the main reason I decided to finally give this a read, but also, I wanted to know what kind of world bans chocolate and coffee?! They must be out of their minds, do you know what that would do to everyone in Washington state, where I live?
Washingtonians would attempt to over throw the government in the matter of hours...
Besides that I'm also in the middle of enjoying My True Love Gave To Me, which is a book filled with twelve holiday stories..I figured what better time then now?
With finals, and so much going on in school, I haven't really been feeling the holiday spirit just yet. It usually comes the day right after my last final, but I was thinking some holiday cheer would help me get through this tough time. My True Love Gave To Me seems to be exactly what I was looking for. Also a lot of amazing authors have contributed to this book, so I'm excited to see what all of the stories have in store for me!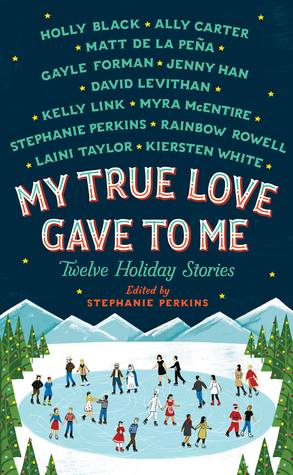 Have you read All These Things I've Done? What about My True Love Gave To Me? What did you think?
Let me know!