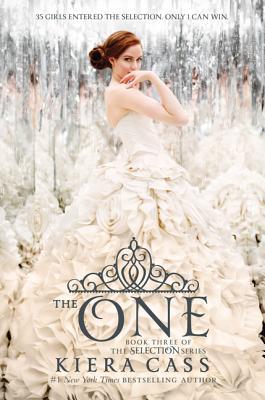 Title:
The One.
Author:
Kiera Cass.
Series:
Yes,
The Selection #3.
Pages:
323.
Source:
Purchased.
Publisher:
HarperTeen.
Published Date:
5/6/14.
Links:
Book Depository
Goodreads
"The time has come for one winner to be crowned.
When she was chosen to compete in the Selection, America never dreamed she would find herself anywhere close to the crown—or to Prince Maxon's heart. But as the end of the competition approaches, and the threats outside the palace walls grow more vicious, America realizes just how much she stands to lose—and how hard she'll have to fight for the future she wants. "
Review:
Just like The Elite, I don't want to go into too much detail about the story, because I don't want to ruin any of the surprises for you! I want you to have the same, exciting experience I had, not knowing what to expect.
So just to warn you, this review will be quite short.
The One continues with America, and the selection. If you don't know by now, the selection takes place, when the Prince comes of age, and needs a wife to rule with him. Because he is so busy, learning how to not only run an entire country, but also an army, Prince Maxon doesn't have much time to go out and find a wife himself.
But instead, thirty five girls from the kingdom, within a certain range of age, are selected and brought to the castle. From there, Prince Maxon, meets these girls, gets to know them, and ultimately has to chose one of them to become his queen.
The Selection started with thirty five girls, and The Elite started with six. The competition should be getting much more fierce since there are only a hand full of girls left, but instead the girls become much closer and honest with each other.
The rebellion is still going on, and America is taking any chance she can get to speak to the public about it; even if it means going against the King and his wishes.
Through these three books, America stayed true to who she was and what she believed in, and that's why I continued reading this series. I loved that she remember where she came from, and what struggles she went through in her life, to get her to where she is today.
While the beautiful covers, the hype, and rage is what started me on this series, America is without a doubt, what pulled me through.
Overall, The One was an amazing end to this "trilogy"; I was glad that something huge happened at the end to bring everyone together, and moving forward. If you haven't picked this series up, I recommend getting your hands on all three, locking yourself, and just marathoning them. They are absolutely fantastic!