Anna and the French Kiss, by Stephanie Perkins.
"Anna can't wait for her senior year in Atlanta, where she has a good job, a loyal best friend, and a crush on the verge of becoming more. So she's not too thrilled when her father unexpectedly ships her off to boarding school in Paris - until she meets Etienne St. Clair, the perfect boy. The only problem? He's taken, and Anna might be, too, if anything comes of her crush back home. Will a year of romantic near-misses end in the French kiss Anna awaits?
"Perkins's debut surpasses the usual chick-lit fare with smart dialogue, fresh characters and plenty of tingly interactions." - Kirkus Reviews, starred review
"Very sly. Very funny. Very romantic. You should date this book." - Maureen Johnson, New York Times bestselling author
"Tantalizing pacing, sparkling repartee, vibrant supporting characters . . ." - Gayle Forman, New York Times bestselling author of If I Stay"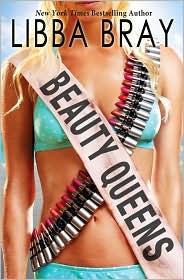 Beauty Queens, by Libba Bray.
"From bestselling, Printz Award-winning author Libba Bray, the story of a plane of beauty pageant contestants that crashes on a desert island.
Teen beauty queens. A "Lost"-like island. Mysteries and dangers. No access to emall. And the spirit of fierce, feral competition that lives underground in girls, a savage brutality that can only be revealed by a journey into the heart of non-exfoliated darkness. Oh, the horror, the horror! Only funnier. With evening gowns. And a body count."